Entertain Yourself While on Quarantine! Top Games To Play at Home
April 22, 2020
The recent COVID-19 situation has put the world in a lock-down indefinitely, and people are turning to alternative ways of enjoying the indoors. Netflix, baking, meal prepping, posting on social media – all of these are great but everyone is starting to realize that this lifestyle gets really old really fast. After you've exhausted all your entertainment channels, what are you supposed to do next? Look for entertaining games to play at home, of course!
If you're into binge-watching, here's a list of TV shows that we can recommend that are close enough to how good Game of Thrones was (except for that last season, which isn't counted, really).
Here are some games you can play, whether on your own, with adult family members, and even with your little ones.
Cool Games to Play at Home on Your Computer or Console
Ever wished you could turn into one of the skateboarding legends right in the comfort of your own home? Well, this app can't do that for you – but it sure can make you feel like it, especially if you're almost bored to death at home. You can try out and master Hawk's tricks, and even share your progress videos on social media. 
Available on Steam, this game is bound to make you feel less claustrophobic during these trying times. With good graphics and different camera angles, you can get both a feeling of excitement and relaxation just by surfing through the waves. Who doesn't want to bask in the glory of the sun in these "dark" times?
If motocross is your thing, you can get some adrenaline rush in the Wrong Way Racing Moto X game. Available on Google Play and iTunes, the game's premise is almost the same as any other racing game available today, except in this scenario, you're racing through a busy highway AND going the wrong way. For a game that you can play on your phone, this one's pretty exciting – just try not to drop your phone in the process.
4. SnowCross Stunts
A simple flash game on the CrazyGames website, this game could easily brush off that boredom and even give you ideas on how to improve your skiing/snowboarding skills. The website has tons of other games to try, and you won't need a credit card or Apple Pay to play: just make sure you have flashplayer installed on your PC. Its graphics are not as sophisticated as what you would find on RPGs, but it is one of the best games to play at home nonetheless.
5. PIPE
Games to play at home are a dime a dozen nowadays, but PIPE takes the cake when it comes to graphics and physics. Yup, you read that right: physics – as in, science that is cleverly incorporated into a game you could play on PS4. This BMX game allows you to "catch air" even without leaving your living room (or any room where you have your PS4 set up).
If you and your friends are the competitive type, then you'll surely enjoy the Forza Horizon 4 on PC or the Xbox One X console, these game will get your racing like there's no tomorrow. With the incredible attention to detail and exciting gameplay, this car racing game could easily take up your entire day without you noticing it.
Finding cool games for couples to play at home nowadays is pretty easy, so you can stay home and enjoy this time with your partner, or even on your own!
Fun Games To Play At Home for Kids
You would think that with the ubiquity of the Internet, people will not get bored of staying at home and just being chill; but no, everyone has been feeling a little lost, cooped up in their homes because of the worldwide pandemic. It's all fun and games, until it isn't: things can easily become monotonous, which could be quite problematic if you also happen to have little ones at home.
In that case, here are some games that could save your life if you're stuck at home – especially if you're a parent.
7. Indoor Basketball
Roll a few socks into a ball, grab the laundry basket, and you're all set! Place the basket at a distance and take turns getting those socks in the basket. You can add some variation and make it more challenging by moving your basket further away from the players at every turn, or shooting as many socks into the basket within a time limit.
8. The Song Chain
For the older kids, you can play a game where one player starts by singing a few seconds of a song and stops at a word – the next player will then have to sing a song with last word from the previous player as the first word to sing. You can challenge each other by stopping at a difficult word, and the next player loses if he/she cannot come up with a song to sing with that word as the starting point.
9. Bowling
Bowling could be a fun activity for you and your kids, since it would mean that you would all have get on your feet and move around. Empty plastic bottles, old markers, or any item you could line up to serve as your bowling pins, plus any ball you have at home are all you need.
For step-by-step instructions, follow this Bowling with Plastic Bottles Guide from PBS.org.
10. Sorting
You know that closet or kitchen cabinet that you've always told yourself you'd try to tidy up since forever? Well, now is the time to finally get on it and clean it up – you can even get your kids to join in. Turn it into a game by letting your kids (especially toddlers) sort them whichever way you like: size, shape, material, color – you can even come up with your own category. At the end of the game, you will have reorganized your storage spaces and your kids will have also learned a thing or two.
11. Mad Skills BMX 2
There are plenty of games to play at home with kids, but what if your kids have already become bored of your board games? Fret not, as this game combines family fun with one thing that kids these days can't seem to get enough of: their gadgets.
Mad Skills BMX 2 is best played on a tablet/iPad, but it is also available for smartphones. The whole family can play in a competition and see who can dominate in the game. Bonus: you all don't even have to be in the same room to play – something very useful to keep social distancing in place.
While the lock-down is inevitable, your family can still avoid losing your minds by turning it up at home with these creative games.
Games to Play at Home with Friends
You've probably never had this much free time in your hands since the last summer of high school, and now you don't know what to do. We all know "adulting" is hard, but it doesn't always have to be – especially not during this worldwide crisis that we are all going through.
If you're wondering how you could turn this dire situation around, here are some games to play at home for adults that do not take much time to set up.
12. Mystery Box
Set up a box on any table, with the opening facing the audience and make sure that the player does not see the inside of the box. The other players (the audience) can take turns placing random objects in the box and make the player guess what it is. Pro tip: play with textures to freak out your family and friends.
13. Doo That Again
For this game, all you have to do is to rely on your friends' or family's musical skills – if they don't have any, pretty sure it'll still be a fun thing to post on the 'gram. Group yourselves into teams (like you do in charades), but in this game you'd have to guess a song. The catch? You can only sing the song with "doo" as the lyric – use it as many times as you want.
This card game is one of the funniest games for adults available today. You can be as mean as it gets without feeling guilty! The best part is that the players and the audience can be the judge of which player dealt the best cards.
A little warning though, these cards can get very offensive, so if your sensibilities are easily offended, then this game is not for you.
Games To Play At Home With Family
For many families in the world today, being on mandatory lock-down has become quite frustrating. Children were sent home from school and will not be returning to their "home away from home" for who knows how long – so parents are starting to panic about how to manage their time with their little balls of sunshine (even though some of them might be more like little balls of processed food and unwashed hair by now).
To help you get out of a rut, here is a range of games to play at home with family that could excite the most bored teenager, calm down the most energetic toddler, or pique the interest of the most clueless tween.
15. STEEP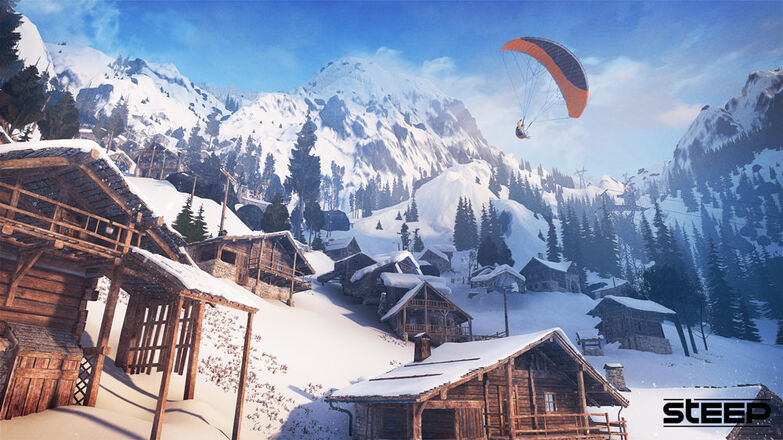 Among the many games to play at home, this one could be perfect for you even if you're not into snow sports. It hits two birds with one stone – not only will you get the feeling of being outdoors, the scenery on a snowy mountain will also make you feel like it's winter – the perfect time to stay indoors and enjoy a hot cup of tea.
A Ubisoft game, STEEP is a remarkable game with great graphics based on the Alps: it offers skiing, snowboarding, paragliding, and wingsuit setups that not only offer great views, but also give you the chance to interact with other players (from a really safe distance, of course). Pro tip: try the mountain view, zoom out, and enjoy.
16. Slap Jack
If you want to disconnect and pull your kids off the screens, a classic card game like Slap Jack would be great for your family. With a regular pack of cards and all your family members in a circle, this game is not only easy to understand for all ages – it also creates a bonding moment for everyone as you all huddle up to play.
When you get tired of the classic card games, you can try checking out Exploding Kittens – a truly creative way to interact with your family. It's cute, it's fun, and it's unlike any other card game you've played before. Gather around and just try not to explode using all the cards in your hand.
18. Hide The Lemon
Since hide-and-seek is out of the question due to the limited space at home, Hide The Lemon (or any item of about the same size you could grab) is a good way to spend your time at home – and a little exercise won't hurt. Instead of sitting around watching TV, take turns in hiding a lemon in different parts of the house, and the person who finds the most lemons (or items) wins. Who knows, this might even encourage an impromptu house-cleaning session for those really hidden spots. It's very much like an Easter Egg Hunt, except there are no eggs involved.
With these games in your arsenal during this extended school break, you can enjoy your time at home with your family. If you're running out of options on how to entertain yourself, these top games to play at home could give you that little boost of fun that you all desperately need.